Metal Processing Services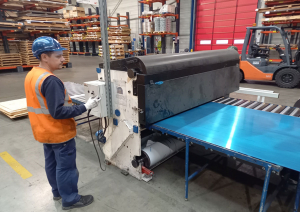 All Metal Services are geared up to supply a variety of metal processing options. Below is a selection of metalworking processes we offer, including some of the sizes and calibrations available for each metal process.
We have an experienced and expert team who can give you help and guidance as and when you need it.
If you can't see the metal process you require or wish to discuss a specific project requiring metal processing, do not hesitate to get in touch today.
We operate automatic band saws, enabling us to cut bar products with the following specification:
Up to 400mm dia

Cut-to-size billets

Tolerance of +/- 0.5mm

All billets hard-stamped 

Deburring facilities

Chamfering of bar ends
WATERJET CUTTING

Up to 200mm thick

4m x 3m bed

Virtually any shape
Can dramatically improve material utilisation
All Metal Services specialise in supplying drawn, seamless tubes for fuel and hydraulic applications. We also supply extruded heavy wall tubing.
Precision cutting to length of thin-wall tubes
Sawing of extruded tubes
Deburring
Bore Cleaning
Kitting
Custom Packing
Bar-coded labelling
Special inspection techniques, including Eddy Current testing at source
All Metal Services Metal Processing
We offer processing of metals including:
Aluminium processing
Steel processing
Titanium processing
Nickel Alloy processing
Copper processing
Yellow Metal processing
We offer metal processing to many markets, including:
Aerospace
Defence
Space
Motorsport
Petrochemical
Nuclear
Marine
Semiconductor
General Engineering and Manufacture
To enquire about any of our metal processing, call our head office on 01675 430 307, or get in touch with one of our regional offices through the numbers at the bottom of this page.